Mom has headed off to the Baker/Rogers/Stapleton Family Reunion, so she'll be having a nice drive today. Before I got Sean off to camp today I caught the squirrels hanging around the bird feeder.


There were three of them in all, but the shots of the other two weren't quite as clear as this particular one.
As I pulled in from getting Sean to camp I saw a hummingbird hanging around in the mimosa tree, and there were also quite a few bees. I really wish I had been able to get the camera out faster. That hummingbird was really spectacular, but he evaded capture by the camera by flying much higher in the tree.
Then on a playful note while talking with Louise, I was able to get a fairly good photograph of Bubba.

I began working on the bathroom when I received a phone call from Danielle letting me know that Miss Faith was in a wonderful mood and would be up for a visit from her Mamaw.

So down went the paintbrush and out the door I went. By the time I got to Chester, she was still in high spirits. In fact, she smiled so big when they met me at the door. I do think that she was happy to see me.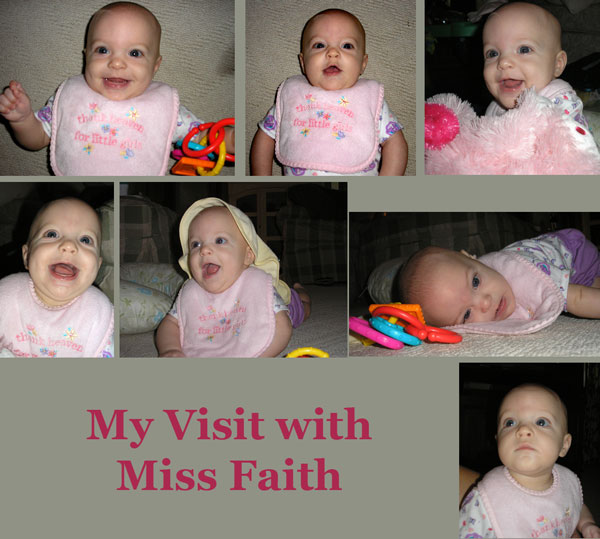 Click on individual shot to view larger image.

The first two pictures were of her playing on the floor talking to me. In the next two she was propped up with a pillow so that she could sit up alone. Then we got cute and were playing peek-a-boo with little yellow "blanket". She then acted like she was so tired, but it was a ruse, she flipped right over. Finally in the last shot she was looking up at me with those big violet-blue eyes as if she was asking to go to sleep. She went to sleep in my arms before I left. It was a precious time.
Sean came home this afternoon with a first place ribbon for a boating competition. He also had a button for shooting a bullseye, and a first place ribbon for that accomplishment also. Great shooting.
I found out on the 3rd that he had also been awarded a third First Place ribbon - he said is was to do with art. Maybe we'll get to see the art project once he returns to camp on the 5th.
I spent some time this evening visiting with my brother's family. We had a really nice visit. Miss Abigail was having some trouble with a critter that was hiding behind her closet. So we said a little rhyme to make it go away, and then on my way home I threw it in the river so that it wouldn't bother her any more. She was so sweet she told her mommy that she was her Aunt Judy's princess. Oops. I may have started something there.